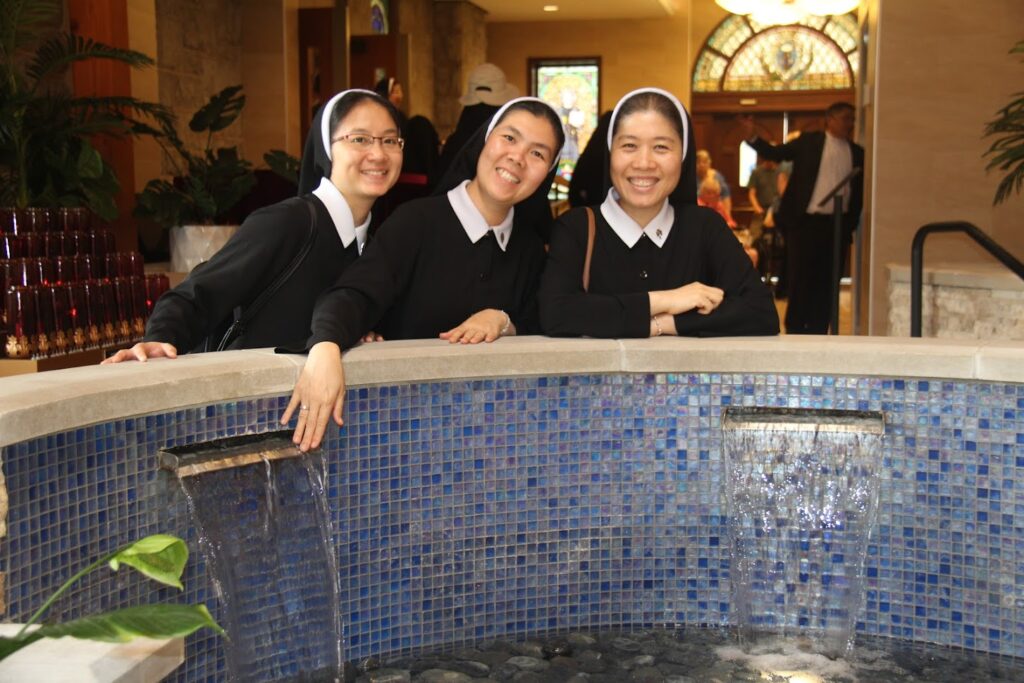 1. How do I know God call me to religious life?
This question can only be answered in an ongoing process of discernment, in which one needs to be attentive to the guidance of the Holy Spirit. No one can answer this question for you except yourself. A person with a religious call often feels a deep "hunger" for something beyond which this world cannot satisfy—a sense of restlessness of the heart which aches for something beyond grasp.​
2. I'm interested in religious life, but at the same time I also want to live family life. Does that mean I do not totally have vocation of religious life?
It just means you're very normal! Having a desire for a family does not exclude the possibility of a religious call. As a religious, we still need the many good qualities of a good wife and mother in our ministry to serve. Choosing religious life does not mean we must forsake our feminism. Rather, we embrace this gift of femininity to be Christ's hands to touch many lives. To belong to God entirely doesn't mean to lose any "part" of ourselves but rather to become more wholly of our entire being. We still can become mothers—not by giving natural birth but spiritual birth to our many spiritual children.​
3. How do I start discerning my vocation?
Prayer is key. The world can be noisy and distracting. God speaks loudest in the silence of our hearts. To hear His voice clearly, one needs to lower the volume of this world. It is crucial that you save time to deepen your spiritual life in order to discern your vocation more fruitfully. When you seek God's will earnestly and wholeheartedly, you will certainly find the answer in your heart. Strive for these spiritual enrichments.​

Prayer. Throughout the day, converse with God. Share with Him your desire, vulnerability, strength, weaknesses, fear, plans, dreams, etc. and listen attentively to how He responds back to you through prayers, events, and people around you.
Sacraments. Regular reception of the Eucharist and Reconciliation will give you the spiritual strength and clarity to discern. If possible, attend Mass daily.
Adoration. In the midst of your busy schedule, save some time to visit the Blessed Sacrament and spend private time with the Lord at least weekly.
Spiritual Guidance. If possible, seek for spiritual direction from priests, nuns, etc. to walk with you in your discernment process.
Spiritual Reading. Read Scriptures, saints' stories, and other spiritual books which draw you closer to God.
Retreat. Retreat is a precious time for a soul to be intimately in touch with God. Retreats are great moments for you to listen to God's plan for your life in silence and prayer.
Visit. Visit a religious order or convent nearby to learn more about religious life, especially the order you're interested in.
Trust. Trust in God's plan for your life—He desires nothing but the best for you.​
4. What are some "visible signs" showing that I have vocation of religious life?
A strong "DESIRE" — to grow in a deeper relationship with God, to belong to God in a more special, complete way. God doesn't draw us to a vocation against our will. He draws us according to our natural inclinations. If we are genuinely and naturally inclined to religious life, that's a great sign. The one aspect God wants us to be is "free". Furthermore, He wants us to freely choose our vocation.
A genuine "MOTIVATION". For example: "I want…

to join religious life to love and serve God with all my life"

to deepen the love and the knowledge of God."

to live the Gospel values as fully as possible."

to share the gift of faith with others."

A "FITNESS" to religious life. For example: "to live cheerfully, and generously the call to religious life; I can be with the community and also can be alone; I fit well in the Charism of this Community (way of living and serving) without excessive burdens."
An "ATTITUDE" to live religious life. For example: having good health; mental, spiritual and psychological balance; average intellectual capacity; sound judgment; etc.​

5. How is it distinct or special to become Sister of Lovers of the Holy Cross?
We, the Lovers of Holy Cross of Go Vap is a Catholic Religious Women Instituition in which all members vow to follow the footstep of Lord Jesus Christ through a life of praying, sacrificing, and serving local Church, especially the poor, the needy, women, and children in areas of faith, morality, education, medical health, culture and social works. Prayer is the heart of our apostolic works. We also highly value community life through which we response to the needs of people. 
6. What are requirements to join this Congregation?
To be at least 18 years of age;
To have equivalent education of High School Diploma;
To have an average educational ability to comprehend the content of the program
To have average physical and psychological health
To have a desire to live a prayerful and apostolic life
To have the ability to live community life.